The VIGAN loaders are offering large variety of technical solutions to accommodate the site configuration, the vessel sizes, the importance of operability, the filling efficiency and the dust management.
Our ship loaders are designed up to 2.000 tons/hour for various products. Many layouts are possible, such as fixed/on tires/on rails gantries, with varying height and width, customized boom length, loading spout type, dust control system, control cabin, static or rotating thrower...
Instead of pushing a standard machine, VIGAN proposes to the customer the right compromise between those key design items and a cost-effective solution. The final set-up is tailor-made based upon customer's needs and requests to produce the most efficient and reliable solution possible. Each machine produced is unique.
Ship loaders
Key features
High customization
High customization
VIGAN proposes a high degree customization for its ship loader to match product, flowrate, operability and site needs.
Dust management
Dust management
One of the key subjects in loading is dust. VIGAN has a unique approach to guarantee dust free loading operation by providing the best hatch coverage solutions.
Designed for high volumes
Designed for high volumes
At VIGAN, we design loaders for high volumes. It means that we want to prevent the changes of equipment and parts due to wear by design or by the equipment quality.
Ship loaders
Loading possibilities
Standard anti-dust skirt
High wear telescopic chute with dust skirt.
Dust suction
Telescopic chute with integrated dust suction system.
Slewing elbow
Telescopic chute with slewing elbow for trimming.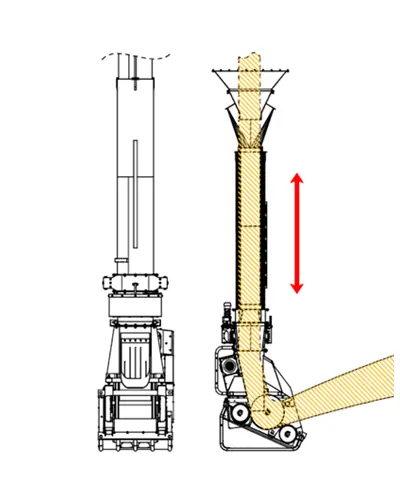 Dust thrower
Telescopic chute with slewing motorized thrower.
Kicking
Telescopic kicking chute with dust-control mouth.
Cascade
Telescopic chute with flow speed control.
Ship loaders
Adaptation to site
Gantry
Gantry
Various possibilities from fix solution to gantry on rails or tires.
Loading booms
Loading booms
Different booms adapted to vessel size: slewing, telescopic, with luffing, with kicking...
Connection with facilities
Connection with facilities
Bucket elevator, tripper, transfer conveyor, slewing conveyor, fix connection point...
Other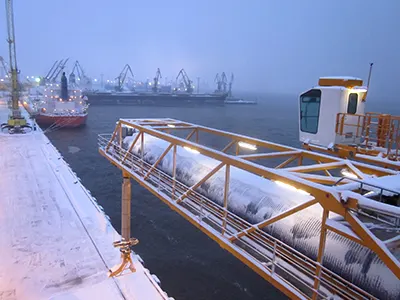 Other
Many accessories and options: filter, operator cabin, remote support, climate adaptation, ATEX, chemical adaptation, retrofitting of VIGAN technology on other loader brands...
Designed for almost any kind of products in bulk...
VIGAN loaders are suitable for all size of barges or vessels
Downloads
Ship loaders - Leaflet
PDF
1.72 Mo