Grain pump
Mobile and portable solutions
Pneumatic grain pumps are versatile unloaders that can be customized to specific needs and are using standard accessories to guarantee short delivery times.
The unique VIGAN multi-stage turbo-blower is creating vacuum in the mobile machine. A mix of cargo and air is sucked up through the suction pipes and subsequently separated.
Depending on the application this can be done via a cyclone or through a dust filter with filtering sleeves. The product is then evacuated through a VIGAN airlock. Depending on the application, the product can be blown with the air exhaust of the turbo-blower through a loading piping system to its next destination.
Grain pump
Key features
Efficient and reliable solution
Efficient and reliable solution
The mobile machine design makes no concession on the equipment quality as it is using the same technologies as the larger VIGAN ship unloaders. Equipment installed is easy to maintain and from quality E.U. suppliers with worldwide representatives.
Design assembly and test in our factory
Design assembly and test in our factory
VIGAN designs, manufactures and assembles its equipment completely in-house. From small to large machines, VIGAN is the only ship unloader and barge unloader supplier with complete design, manufacturing and tests capacities in its factory allowing an integrated quality control.
Easy and simple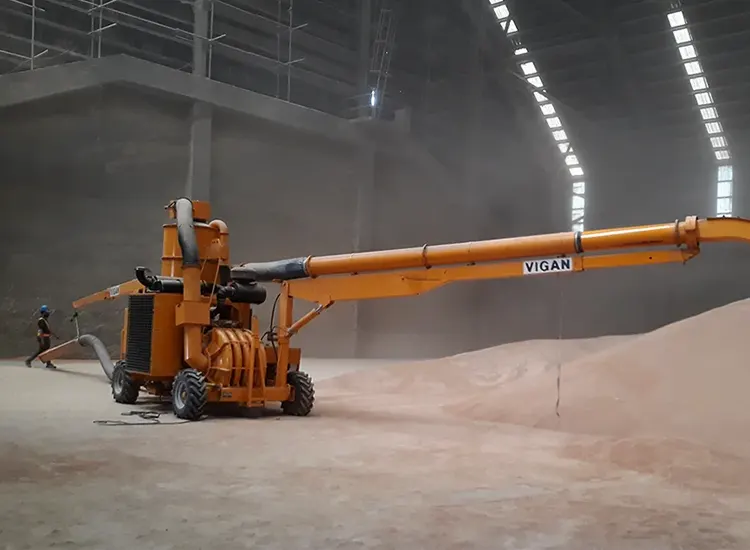 Easy and simple
The machine comes pre-equipped and pre-tested, so it is easy to put into service. Operations and maintenance are simple to the user and the mobile machine is a flexible tool. Our technicians and after-sales department can give support anywhere in the world.
Since 1968, VIGAN sold more than
1300 grain pumps
Downloads
Grain pump - Leaflet
PDF
3.51 Mo